25/06/08 23:32 Filed in:
Info
Join us for the first ever Time Out Battle Satellite in association with Vibe Live: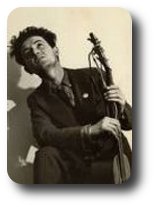 Folk, the people's music, means many things to many people. Folk music often seems squeezed from above and below. Pop music, and the folk-fusions that follow in its wake, are seen by some purists as diluting the folk tradition. At the same time it seems that this 'people's culture' is scorned by the cultural establishment. In the last few years, however, a revival of English folk music has seen a plethora of new folk styles sprout up, from nu-folk to twisted folk, from Bat for Lashes to Tunng and even twindie, a new generation seems to be giving folk new meaning and an unexpected lease of life. Has folk finally left behind its parochial, twee image?
Politics seems to be an essential part of the revival. From the Levellers' Battle of the Beanfield to Clan Dyken's 'eco-folk', have 'new age' subcultures and green politics helped to recover folk's radical roots? Some hope a revived folk tradition might help create a more 'radical' English identity and heritage, an alternative to the flag-waving jingoism of Rule Britannia. Liberal peer Lord Redesdale wants to have 14,000 morris dancers at the 2012 Olympics. But is folk in danger of being co-opted and sanitised just as it seems to be reinvigorated? At the start of the 20th century progressive enthusiasts propagated the idea that folk music could reconnect 'the people' with their past, and with each other, and inspire a collective outlook. In the very different political context of the 21st century, is folk music fulfilling its potential, or is it just another brand?
Join the legendary singer Barb Jungr, the Daily Telegraph music critic Ivan Hewett, Time Out music editor Eddy Lawrence, together with the music journalist Neil Davenport, music scholar Cara Bleiman and folk enthusiasts Don Eales and Abdul Rehman-Malik in discussion with the Institute of Ideas and Guardian arts blog's Shirley Dent to find out who really does give a folk. Hang on to your harmonica and prepare to fight your corner in the first Time Out Battle Satellites 2008 in association with Vibe Live.
Vibe Live, 91-95 Brick Lane, London, E1 6QL, 7 - 9pm 29 July 2008
Tickets £7.50/5.00 available online at
www.battleofideas.org.uk
or by telephone on 020 7269 9220