Peter Berryman - The Return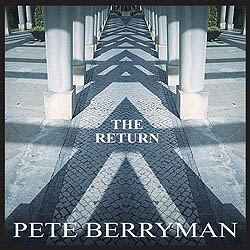 Peter Berryman arrived on the acoustic music scene in the 60's with the Famous Jug Band which also featured Clive Palmer of the Incredible String Band. At this time he also recorded with Ralph McTell, Wizz Jones and Al Stewart and in 1971 his influential LP with John James , Sky In My Pie,was released. Since then he has collaborated with many notable musicians, worked in theatre and film, and played as far afield as Hokitika and Abidjan.
About The Return;
"Pete explores various moods and influences with equal respect for folk jazz and celtic roots with his delicate fingerstyle technique. His love for the acoustic guitar and it's ability for nuance and subtlety is showcased in this album of fresh and highly original compositions. Enjoy" Ralph McTell
"Pete Berryman, and his contemporary Bert Jansch, still have plenty to offer us in the 21st century. Perhaps it's the simple acoustic style that he employs, free from the distractions of other instrumentation or vocals, but it's hard to believe that a period of thirty years lies between some of these compositions when they all sound so vibrant and new. ." Acoustic Magazine
"Pete is one of the unsung heroes of the British acoustic guitar movement."
John Renbourn
For more information visit
www.peteberryman.com