3 Daft Monkey's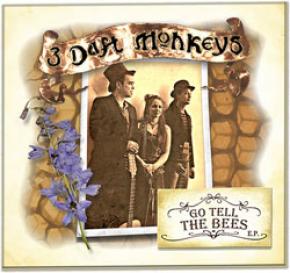 " A brilliant Band...I think this [EP] is absolutely amazing "
Mike Harding, BBC Radio 2
Celtic, Balkan, Gypsy, Latino, Cornish. All these influences and more are in evidence within 3 Daft Monkeys' music. Far too diverse to be pigeonholed into 1 genre, and possessing a sound completely impossible to typecast into being a particular "style", 3DM traverse Dance, Dub, Punk, Reggae and Traditional Folk with ease, creating a stunning blend of upbeat, danceable music which despite all its world influences remains undeniably British.
Go Tell The Bees EP showcases 3 tracks from band's forthcoming album "Social Vertigo", scheduled for released in early 2008. Also included is a remastered version of Astral Eyes from their previous album "Hubbadillia". To date Hubbadillia has sold over 5,000 copies purely through word of mouth, and without any distribution or label deal.
3 Daft Monkeys have already played to tens of thousands of people across numerous venues and festivals around the world, both as headliners and support for a variety of major acts.
Recent festival highlights include Folkwoods, Holland; Glastonbury Festival 2007 (3 sets); Folk Segovia, Spain; Lorient Interceltic Festival, France; Kevelaer World Music Festival, Germany and Labadoux Festival, Belgium. Over 5000 people watched their main stage performance at Beautiful Days 2007 and the band will end their summer festival season with a performance at Bestival.
Whatever your taste in music, 3 Daft Monkeys offer something special and their unique blend of high octane, funked-up folk is guaranteed to even the greatest cynics dancing!