Zach Lupetin & The Royal Family - Heaven (I'll meet you there)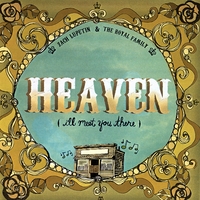 "...Wow, we have here 16 great songs with diverse styles like country, Chicago blues, gospel, jazz, Dixieland honky-tonk and swing. On Heaven you can listen to very catchy numbers with quick changing music styles in which the witty worked out texts are sung through considerable vocal chords of this talented singer.
I believe that Zach Lupetin knows the blues deep down in his soul and that is why he is able to incorporate it in his songs in many diverse ways. When he still studied at the University of Michigan he played with the band "the Midnight Special" a school blues band from which he recruited some musicians from for his CD. His musical examples (idols) are clearly John Prine, Wayne Hancock, Ramblin' Jack Elliot, Django Reinhardt, Muddy Waters, Leadbelly, Jimmie Rodgers and the Carter Family among others.
The first song on this CD is called "Maybe Baby" and is a blues number tinted with guitar, upright bass, and soft drum accompaniment as well as lively gospel singing and clapping. Some songs are reminiscent of the pre war 20's to 40's, which may seem funny for young twenty something guy. Songs like "Mama Said", "End of the Road" and ""Get Out" illustrates what we mean by this. Textually there is also a portion (big portion) of humor in the songs, showing that they must have a had a great time recording the album, especially in songs like "I Wish That I never Had Met You" and in the seven minute long "Get Out". "Say You Will" on the other hand is a more traditional ballad and the basic of blues words are held up in "Boo Hoo Blues".
The title track "Heaven (I'll Meet you There)" appeals on the beginnings of storytelling blues. Livelier (or happier) is "Another I Don't Love You Song" and "Superkiller # 405"". If I can chose my favorite song I would go for "La Sangre Lake" that really is completely different from the other songs on this CD. This is a real different record that I would strongly recommend it to lovers of nostalgic blues and country who dig that timeless, happy sound. Zach Lupetin is currently touring throughout California with his new group "The Dustbowl Revival", a "good old-time string group" as he calls them. Check them out here: www.myspace.com/znlupetin. Fantastic CD! Keep on doing what you do, Zach!
-Freddy Celis, ROOTSTIME MAGAZINE, BELGIUM
For more information visit
http://www.myspace.com/znlupetin