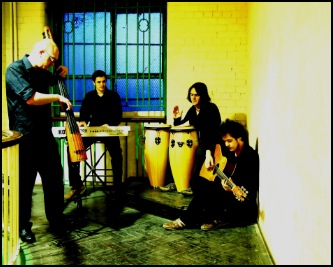 On the 12th of October 2009 Beggar Joe will release their acclaimed self-titled debut album.
Beggar Joe, formed at Salford University where they had one idea in common, to create meaningful music. Coming fresh out of Manchester's, bar, cafe and live music scene they soon attracted a strong gathering, large enough to catch the eye of C.A.T Records, where they recorded their debut album Beggar Joe.
The group consists of John Kenzie – guitar/vocals, Justin Sheren – keys, Andy Brown – double bass, Rome Mosabbir – percussion and Chris Butler – drums.
Beggar Joe style is hard to classify as it falls into not one genre but many. You could say folk rock, blues, soul, all wrapped up with a near African percussion sound, added for a touch of extra rhythm.
The production is pure bliss and very tight. Al Stone (famous for producing Jamiroquai's Travelling without Moving) seems to capture the mood/sound straight from the group. Beggar Joe's debut album really is a kaleidoscope of styles, which seem to roll into each other. This group will go far.
"Beggar Joe blend blues guitar with seamless finger work and raw vocals on their debut album. An Amalgamation of blues, folk, jazz and rock 'n' roll- it is good, very good. Take for example lead-off single 'Sleeping City'. It's a masterful bluesy number which triumphantly picks up speed towards it's close and leaves you in no doubt that Beggar Joe means businees"
-Official PR


Checkout their site at:
http://www.myspace.com/beggarjoe