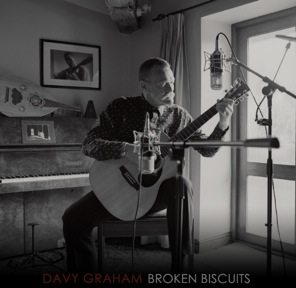 Seminal guitarist and musician Davy Graham releases a new long player entitled "Broken Biscuits".
Recorded over the past two years the record offers 16 tracks, and features 9 new Graham compositions alongside arrangements of traditional music from all over the world.
It represents Graham's first substantial recorded work since 1979's "Dance For Two People."
The record was partly financed by 336 of Graham's long-term fans, many of whom paid for the record before work had begun on it and whose names feature in the cd booklet.
Martin Guitars, Fylde Guitars, Charter Oak Acoustic equipment and Buzz Audio pre-amps assisted the project greatly in providing endorsee support which has now helped allow Graham to record to the highest standard whenever and wherever the mood takes him.
Graham's back catalogue has also been restored from the original master tapes and is released once more with fabulous new artwork, original sleeve notes and improved sound fidelity. For those who have listened to Graham over the years as they drive,
play poker
, or settle in for an evening, this is a wonderful opportunity to hear his earlier work at a higher level of quality than ever before.
We believe that Davy's records are what ipods and cd players need and that a cd containing the music is the most secure and pleasing format to own it on.
Track Listing of Broken Biscuits
1. Panic Room
2. Flower Mountain
3. Rooty
4. Afrika
5. Samokovsakas
6. The Gold Ring
7. Sa Ma
8. Sita Ram
9. Blood Red Roses
10. Bonny At Morn
11. Kiba Jaya Jaya Gorachandra
12. Precious Memories
13. Ignunt Oil
14. Delerium Tremens
15. Kadinesca
16. Brisk Young Widow