Davy Graham - Live At St. Andrews Folk Club (1966)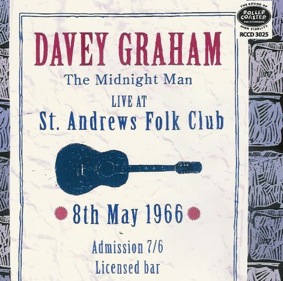 A long-awaited album from Rollercoaster, and a classic performance from the 60s by Davey Graham. This previously unreleased live performance was recorded by Geoff Harden while he was a student at St Andrews University in 1966.
Geoff regularly carried his tape-recorder to the St Andrews Folk Club and on this occasion, after recording the evening's events, he was asked to erase the tape by someone purporting to be Davey's manager. Luckily, the reel survived and we negotiated with Davey and Geoff to release it in its entirety.
The surprisingly hi-fidelity recording features Davey in great form vocally and instrumentally. This CD will bring back happy memories for those who remember Davey's folk club appearances in the 60s, and it will delight Davey's many new fans eager to hear Davey at his very best..
TRACKS:
Jubilation
Travelling Man
Sally Free and Easy
I'm Ready; Work Song
Rock Me; No Preacher Blues
The Preacher
Sweet Home Chicago
The Cat Came Back
Better Git It In Your Soul
Neighbour, Neighbour
Panic Room Blues
Sklillet Good and Greasy
Buhaina Chant
Money, Honey
Maajun
Miserlou
She Moved Through The Fair
Bulgarian Dance
**Note that this CD has been prepared in jewel case format for sale during Davey's current UK tour (see www.daveygraham.com for details). A Rolapak design will be available from Rollercoaster later this year.