The BBC Tapes 6 volume CD set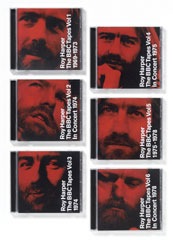 Harper's label Science Friction Records has re-packaged the BBC tapes volumes 1 to 6. Without a doubt, the pain stacking re-mastering was personally over seen by Roy himself. Previously out of stock and unavailable this 6 volume archive is a must for anyone looking for classic live Roy Harper.
The volumes include concerts from:
1973 Bob Harris sessions, The Hippodrome Golders green 1974 concert, John Peel sessions and much more.