This is not a Dream - Willie Wright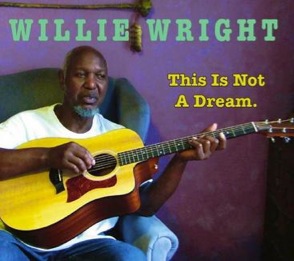 Willie Wright's first new studio album in 34 years!
Rhythm & Blues fans brought back his collectible 1978 classic LP "Telling the Truth," inspiring Willie to create this album of all new original compositions.
Willie Wright, the 1960's/70's Folk-Soul "mystery man" whose 1978 classic LP Telling the Truth was re-released in January 2011 on the prestigious archival label Numero Group , slipped quietly into Burlington, Vermont for a couple of weeks in May, 2011, joined by some lifelong local friends, to record his first studio album in more than 30 years. Currently coping with advanced Parkinson's, he said in an interview just before the recording sessions, "I can feel I'm losing it slowly, but I'm trying to hang on; that's why we're planning this session. That will be the last session I do. I'm not complaining. I'm just trying to speak the truth."
Wright, who has been compared to Bill Withers, as well as such hard-to-classify vocalists as Nina Simone and Arthur Alexander, is closer to a Bob Dylan or Tom Rush: a singer-songwriter with soulful stories to tell and powerful messages to deliver. As a composer, he is a minimalist, known for his stripped-down arrangements, unusual and arresting lyrics, and sweet vocals. Commenting on Telling the Truth, one recent reviewer called Wright's voice "as smooth as warm butter." (A single from that album, "I'm So Happy," was featured as the "Song of the Day" on Good Morning America in May 2011.)
Wright's music is strongly influenced by his roots in Mississippi and Missouri, in the African-American musical tradition and also bears traces of the Cherokee heritage of his mother's family. His funky 1970 cover of Curtis Mayfield's "Right On For The Darkness" has been included in rare soul collections for decades, often with a brief, cryptic note that his identity, history and whereabouts are unknown. This cut also has been widely sampled, and extended dance re-mixes have been popping up on both sides of the Atlantic for years.
In fact, however, Willie Wright, born William C. Gathright on July 7, 1939 in Bayland, Mississippi, is not really a mystery - he's a 73 year-old living treasure of the folk and soul idioms who has been creating original music and entertaining audiences for more than fifty years. The aura of mystery which has always accompanied references to him by aficionados of vintage R & B stems in part from the fact that Wright, at the height of his career, though ardently courted by major labels, refused to be signed. He was one of the first real indie artists, founding his own label, "Hotel Records" in 1969, and releasing his initial 45 rpm recording shortly after, followed by the rare, collectible LP Lack of Education, then Telling the Truth in 1978 and finally 2002's live improvisational album, Brother Bill. Wright deliberately chose artistic freedom over the sharecropper's existence to which many of the best artists of his generation were subjected.
Willie Wright spent his teen years years singing with George Bragg and Harry Jensen in a doowop group called The Persuaders in New York City's Harlem. Later, these three friends played together in many New York music venues as a popular soul group called The Willie Wright Trio. He went on to become a well-known presence in Greenwich Village during the early folk days, playing the same clubs as Phil Ochs, Bobby Hebb, Judy Collins, Richie Havens and others. His forays into the world of soul music included playing flute for the soul trio The Three Degrees, but eventually he focused exclusively on developing a solo career, creating his unique acoustic folk/soul blend during the late 1960's and early 70's. The majority of his performing years after New York were spent in Boston, and later on Nantucket Island. For the past 20 years, he has made his permanent home in Providence, R.I. Wright continued playing for audiences until 2002, when he retired as a performer. Since then, his prolific songwriting has continued, and he has created a catalog of hundreds of original songs. After a recent bout of ill health, in response to constant encouragement from his Vermont friends, Wright went back into the studio accompanied by a band made up of old and new friends, and delivered some of the most moving and interesting performances of his long career.
This Is Not A Dream is the result. It was produced by the newly-minted Burlington , Vermont label Green Coil Records, using facilities and expertise provided by Gus Ziesing at Low Tech Studio on lower Main Street. Wright penned all of the songs and arrangements, material that ranges from Memphis-style deep soul ballads to poignant country-inflected Americana. Included is the Dylanesque title track, as well as an ominous song of warning called "Trust" which name-checks Jessie James. Another stand-out is "Donna's Song," one of the most tender and simple love songs you will ever hear. There's a swinging tune called "Don't Change A Thing" which evokes some of Marvin Gaye's most infectious melodies while adding a subtle accent of the Caribbean. Every song is different, yet Willie Wright's signature sound is instantly recognisable, even to fans who remember his memorable Boston and New York career. His creativity re-invigorated, Willie Wright is already at work on new compositions, and is planning on a release of previously unheard tracks he originally recorded in the mid-1970's.
-Official webpage