Heidi Winzinger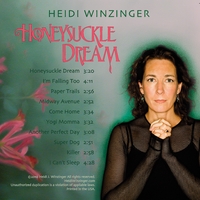 Born, raised and still lives in Southern New Jersey where she takes offense to the popular stereotype of a "Jersey Girl" which she says is strictly a phenomenon of very small parts of "North Jersey" near New York City.
She's not much for make up, loves to get her hands dirty and can't bear to where high heels, is a fierce animal rights advocate and promoter of people becoming acutely aware of where their food comes from.
She grew up on the edge of the great New Jersey Pine Barrens, home of the Jersey Devil and a vast place where a girl can get lost on never ending sand roads, cranberry wine and midnight bonfires.
During college Heidi worked various jobs, but loved working on farms the most which led her to study agriculture with an eye on having a farm of her own someday. "My dream would be to operate a small farm of my own and write songs, touring in the winters and farming in the growing season". But until then, she helps the farming industry with her day job preserving farmland for the State of New Jersey and finds time for writing, recording and performing her music every chance she gets.
Heidi's first CD "Snow Day" includes an assortment of hard folk rock tunes and songs riding the fence between folk and country, with themes about work, the love of a dog, the loss of a loved one and the pleasure of a snow day. Indie radio across the globe play her songs on Snow Day including the BBC radio in England and WXPN Philadelphia and Heidi's music video featuring her song "My Best Friend" has received worldwide attention.
Her new CD "Honeysuckle Dream", released October 2010 takes the listener into a new realm of Heidi's imagination with upbeat pop songs like "Yogi Momma" and "Super Dog" highlighting her love of a great groove tune, to "Killer" crashing right into the taboo subject of people who abandon their pets at shelters and then to Paper Trails inspiring women to embrace staying home to read a good book.
Heidi is writing for her next CD focusing on local history, stories of the fabled Pine Barrens and other New Jersey curiosities.
Official website