Walk With Me - Sean Taylor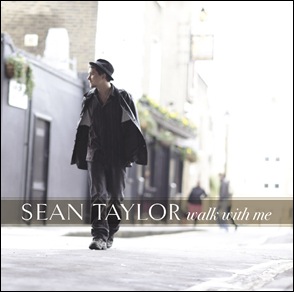 Last year we did a review of a new London based artist Sean Taylor and his Calcutta Grove album. Brilliantly inspired by many of the late great poets, he's been busy recording and has produced his most mature album to date, Walk With Me.
Recorded in the studio of Trevor Hutchison (WaterBoys), Dublin during a weeklong session. Sean's joined by Dave Hingerty (The Frames), Michael Buckley, Vyvienne Long (Damian Rice), Justin Carroll and BJ Cole.
Walk With Me is one very complete album, rich with feeling, soul and life.
Perfect Candlelight, Walk With Me, Love Hate On hold some very original piano work. There's also a superb and very new approach to the traditional song ,She Moved Through The Fair. Bordering on psychedelic and funky.
The album is wrapped up and beautifully presented in very original cd case.
Official Website info:
Kilburn based singer songwriter Sean Taylor whose 2009 release CALCUTTA GROVE received rave reviews the world over has now produced his best work to date. WALK WITH ME is a stunning collection of eleven new tracks, nine of which are from the pen of Taylor; the remaining two are his take of the traditional She Moved Through The Fair and a superbly unique arrangement of a Shakespearian sonnet entitled Love Hate On
http://www.seantaylorsongs.com/