Drapper's Delight - Indoors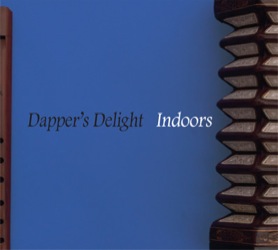 Dapper's Delight (Adrian Brown - anglo concertina and Susanna Borsch - recorder) is a duo formed to explore the dance music and songs of the period 1550-1750, particularly pieces that are found in both high and low cultural sources. Their current interest lies with the rich repertoire of 17th century English tune books and broadside ballads, which they feel, form a bridge between 'art' and 'folk' music, modern categorisations which would never have been applied to music at that time. Dapper's Delight use small scale and highly portable instrumentation which they feel is very effective for this repertoire.
The recorder virtuoso Susanna Borsch, together with Adrian Brown on the anglo concertina take a new approach to music found along the historically ambiguous border between classic and folk music in 16th and 17th century England. As Dapper's Delight, they present their enchanting arrangements of these timeless songs and invigorating melodies.
-Source
Official Website