Cathy Jordan - All The Way Home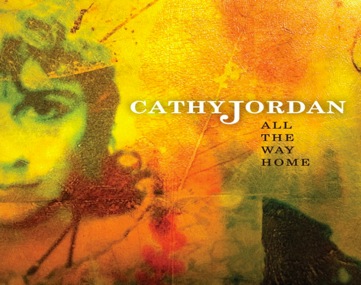 Musician and vocalist Cathy Jordan, long time member of multi-award winning traditional Irish band Dervish, will launch her debut solo album at Glasgow's forthcoming Celtic Connections Festival. Cathy's first ever performance as a solo artist will take place on Friday 20th January at the Tron Theatre at 8pm. The gig will feature guest appearances from album contributors including fellow Dervish star Liam Kelly, flute/whistle legend Michael McGoldrick and members of Swedish band Väsen, as well as other special guests.
The new album, All The Way Home, is the highly anticipated solo showcase of the musical and vocal talents of the Roscommon native. This seminal work, some twenty years in the making, features many of the most notable names in the folk world, both at home in Ireland and abroad. All The Way Home, which was produced in Sweden by acclaimed producer, multi-instrumentalist and long time collaborator Roger Tallroth, intimately communicates the rich cultural tapestry resulting from Cathy's unique musical and personal journey from early childhood through her professional success to date.
All The Way Home allows the listener a glimpse into a more personal side of Ms. Jordan's life. Among the twelve tracks are traditional ballads Cathy would have heard sung in the family home from the earliest age. Performing these songs with family and friends was a fundamental part of family life and became embedded in Cathy's musical psyche. They are songs that now represent the tradition of her childhood, a tradition that has experienced a renaissance of interest in recent times. For this reason Cathy wanted to reintroduce these songs to a new generation with a vibrant and contemporary energy, whilst retaining some of the traditional methods of how they were intended to be performed. To achieve this Cathy worked with acclaimed musicians such as Roger Tallroth (guitars), Gustaf Ljunggren (lap steel/banjo/piano) and Lars Andreas Haug (tuba) of Sweden, Ireland's Andy Irvine and the distinctive sounds of singer song-writer Eddi Reader with whom she duets on Eileen McMahon. Also featured are Michael McGoldrick on uileann pipes, Rick Epping on concertina and harmonica, Seamie O'Dowd on fiddle, Liam Kelly on flute among others To write a fitting chapter to the story that is All The Way Home Cathy includes four of her own songs, which mirror an early chapter and somewhat of a conclusion to developments in Cathy's own life.
The first of these The Road I Go, co-written with Brendan Graham, tells the story of the restlessness of youth, of a young person bored with the familiar surroundings and experiences of home and longing to see the world and what it has to offer, yet well prepared by a strong sense of place and family. The final song, and title track to the album, tells the opposite story, a story of a longing to return to the familiarity of home after seeing what the world actually has to offer and finally realizing that 'home' is where the heart belongs. For Cathy there is special place in her heart for this album; "These singing sessions and songs provided the soundtrack to my life for many years. Every social occasion had a singing session to mark it; births, deaths marriages', christenings, house Stations, Easter, Christmas; you name it we sang our way through it."
-RepublicMedia