Davy Graham Anthology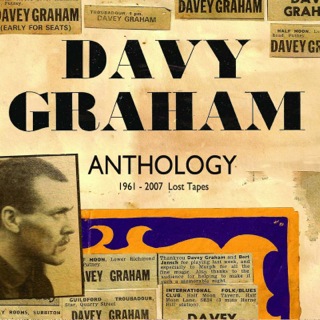 Buy it now
The new anthology recently compiled by Les Cousin music really holds some real gems for any fan of Davy Graham. One of those must buy albums which includes 54 tracks from 1963 to 2007 of rare live performances, unreleased studio work and radio broadcasts.
The first five tracks seem to be from the acetate commissioned by Bob Monkhouse back in 1963 which Graham later went on to record Guitar Player on Pye Records.
http://www.folkblues.co.uk/graham1963pt02.htm
Its also interesting to hear Anji with a brief monologue about how the song came about. Little did Graham know this song would inspire so many people in the years to follow.
On other tracks you can hear the faint "shhhh" in the background by some friend or fan lucky enough to be present in one of Graham's many private parties or events.
The tone of the anthology is more bluesy and back to the roots than his original studio albums. This really shows his amazing guitar technique.
Worth mentioning are the tracks from the EP From London to Hootanny released with the Thamesiders back in 1963 or Work in progress which would later appear on his groundbreaking Folk Blues and Beyond album.
The 3 CD's are beautifully presented with clipping and photos from 1963 to 2007. Included also is a booklet with some great photos.