Mary Black - Stories from the Steepels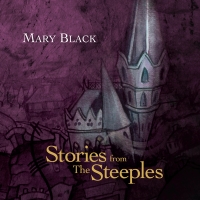 Mary Black, an Irish singer song writer who started out back in 1975 playing in a small folk band called General Humbert, is back with her 17th studio album
Stories from the Steeples
. She has won the I.R.M.A for best female artist many a time and needs no introduction. This is truly another great album by an amazing singer song writer. You can purchase a copy through her
website
.
Official RepulicMedia blurb:
For over a quarter of a century Mary Black has been a dominant presence in Irish music both in Ireland and abroad and is acclaimed with eleven platinum selling albums spawning countless international hits. Having shared stages, TV shows and recording studios with some of the most revered performers of her time, Mary is widely regarded as one of the most important vocalists of her generation. Having played a front-line role in bringing Irish music, past and present, to an increasingly appreciative and ever-growing global audience, Mary is set to build on this reputation with the highly anticipated new studio album Stories from The Steeples.
Mary's strong historical commitment to original material by homegrown Irish songwriters continues on Stories from The Steeples. The album features three songs from up and coming young songwriter Danny O'Reilly, as well as interpretations of songs by Eric Bogle (the anti-war All The Fine Young Men) and Ry Cavanaugh's Lighthouse Light which Mary performs with her long-time friend Janis Ian. Having previously performed with Emmylou Harris, Joan Baez, Mary Chapin Carpenter and Van Morrison, Mary's new album also includes three collaborations with new artists. In addition to Lighthouse Light with Janis Ian the album also includes the rollicking Mountains To The Sea (Mary was "thrilled to get to sing alongside one of my favourite singers, Imelda May") while her collaboration with Finbar Furey on Walking With My Love is "a song that always makes me smile" and was donated to a special EP for the Alzheimer Café Initiative.
In an industry famed for its fickleness and an insatiable need for fresh novelties Mary's enduring success is proof that her depth of talent and her love of singing truly do transcend generations, as well as national and musical boundaries.