Luke Ritchie - The Water's Edge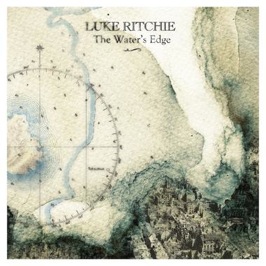 A very deep and focused album. Amazing voice and great melodies.
The Water's Edge has now been finished, and is due for release this autumn.
It was produced by Paul Savage (who's worked with such illustrious acts as Arab Strap, Mogwai, Franz Ferdinand and The Phantom Band) in Chem 19 Studios in Glasgow.
Five of the tracks feature arrangements by composer Nico Muhly, who has arranged for Sam Amidon, Björk, Grizzly Bear amongst many others.
Click on the player to the right of the page to hear 3 of the new album tracks, with the 3rd track (Northern Lights) featuring one of Nico's arrangements.
Rags to Ritchie
by Tobias Hill
The Met Bar's full of ragamuffins! Actually they're not that threadbare - some of them don't even have holes in their clothes - but one thing's for sure; Old Park Lane's Metropolitan Hotel isn't their normal stomping ground. The Barfly or the Water Rats look more their natural habitat; the Met Bar, meanwhile, has escaped wholesale out of a Smirnoff Ice ad, all Japanese silk wallpaper and Cristal champagne at £1800 a pop.
Not that anyone's complaining: Wildplum Live know how to organise a slick gig, and even if the bubbly stays on ice, the punters have certainly turned out in force, all dressed up in their Sunday best for a night uptown with Luke Ritchie.
Ritchie himself is still down in the audience, discussing what it's like throwing TVs out of hotel rooms in the 21st century. Flat screens just aren't the same, he says: they fly like frisbees. Presumably he's just been upstairs, seeking perfect pitch over Hyde Park. But Ritchie is on first - Hijak Oscar and Jacksons Warehouse are waiting in the wings - and there's music to be getting on with.
He takes the stage alone this evening. It's four years since Ritchie's band Sevenball really got rolling, but tonight he's playing solo, with Sevenball drummer Martin Goodfellow joining him only for the final number. Until then Ritchie plays unplugged, starting out with Pass it Over and The End, hitting his stride with Song for Sundays.
The Sevenball sound is still there, but solo acoustic brings out the strengths of Ritchie's voice and guitar work. Sevenball have been compared to Ben Harper and Radiohead, but their full staged sound is more Seattle than either of those suggest. Ritchie keeps faith with that - the thick sludgy sediment of Grunge really comes to the fore when the set goes electric - but there's a taste of Blues here too, and in the fifth number, Shanty, a chaser of Folk via John Martyn.
Luke Ritchie puts his head back and howls like a Viking skald. He cuts a leonine figure, and though he's physically compact his voice is anything but; in fact the most startling thing about his live performance is the power of his vocal sound. He sings like a man possessed. There's plenty of Eddie Vedder in there, and a chasing of Counting Crows's Adam Duritz too; but like all good singers Ritchie is ultimately distinct.
Disaster strikes! Halfway through the closing number, I Don't Worry, the pedal snaps on Goodfellow's bass drum. The duo play on. You get the impression they'd do so if all they had to beat the infernal drum with were their skulls. The passion is there, and the crowd respond to it, and rise to it. It's a grey December night out in Hyde Park, but in the Met Bar, Old Park Lane, Luke Ritchie is still seeking out the perfect pitch.