Norris-Brown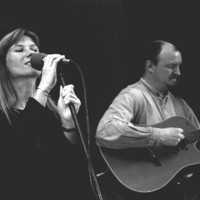 Norris-Brown was a contemporary acoustic duo comprised of vocalist Ingrid Brown and guitarist Adrian Norris. They were formed in Birmingham UK in 1992 after Ingrid answered an advertisement that Adrian had placed in a midlands music magazine looking for a vocalist.
Ingrid had previously sung in social club acts doing pop and classic standards and, over time, she moved on to developing a love of traditional folk songs and tunes. She played piano and, while the instrument would never be used live, she used it as a basis for developing her musical knowledge and writing her own compositions.
Adrian was a latecomer to music having started playing the guitar in his late teens. Initially influenced by rock, he began to explore the more contemplative side of music after he discovered the expressive timbre of the acoustic guitar. He started playing in local acoustic acts and slowly learned the art of song writing through collaborative efforts in these bands before moving on to writing complete numbers of his own. Being aware that he wanted his songs to be expressed as well as they could be he searched for a vocalist with range, depth and a unique quality in her voice. When they met in January 1992 he knew he had found a very special musician in Ingrid. They found that they both shared an interest and passion for the folk music of the British Isles and the acoustic leanings of classic rock and blues bands from the 70's and 80's.
Suitably impressed by each other at their initial audition they began to work together as "Pocketstone". They recorded a basic 5-song demo and the duo quickly received bookings in local clubs and also bookings for festival appearances that included Broadstairs Folk Week, Leamington Peace Festival, Bromsgrove Folk Festival, Cheltenham Fringe and Warwick Folk Festival. They were also featured on BBC Oxford radio and recorded a live session on BBC Essex radio.
Their repertoire was mostly composed of self-penned material with occasional contemporary covers and a couple of traditional folk songs thrown in for good measure.
In an effort to promote local music talent Pocketstone also became resident artistes and co-organisers of the Junction Roots and Blues Club in Birmingham with long time friends Pete Holder and Paul Miller.
They continued to play on the folk and acoustic scene until 1996, there was then a hiatus from live performance until 1999.
In 1999 the duo were re-launched as Norris-Brown and again performed around the local music scene playing at the Midlands Fate Festival, Lichfield Folk Festival and at many of the emerging acoustic music and song-writing clubs around Birmingham. From 2001 Norris-Brown again pulled off the live performance circuit but continued to record some of their songs with a computer based home recording set-up.
In early 2006 Ingrid was unfortunately diagnosed with cancer and treated with an operation and chemotherapy. Later that year the duo decided to return to live performance and began rehearsals. As well as working on Norris-Brown songs they also started to rehearse with their old mates Pete and Paul in their band 'Electric Shed'. Fate stepped in at this point and Adrian began to suffer from a condition called Focal Dystonia that affected his right hand, undermining his ability to fingerpick the guitar and hold plectrums. Norris-Brown did one further performance in May 2007 supporting Electric Shed (With a plectrum selo-taped to Adrian's hand!) Ingrid also played at the Harborne Carnival a month later doing backing vocals with the 'Shed.
By early 2010 Adrian had recovered his playing ability enough to strum a few slow songs and again the duo started rehearsing some material intending to do some live playing. Unfortunately in March of that year Ingrid showed signs of illness that was initially believed to be pneumonia but was later diagnosed as a return of cancer. After a short battle with the illness Ingrid sadly passed away on 13 June 2010 at the age of 46.
Ingrid and Adrian had been personal partners since they first met in 1992 and have a son, Johannes, a talented young guitarist who is currently carrying the musical torch for the family.
A personal comment from Adrian:
"Ingrid will, of course, be deeply missed by Johannes and myself for the rest of our lives and there are many thoughts and feelings that need to be expressed from a personal perspective about the lady that we both loved most but, as this web page is for music, I will stay with this aspect of Ingrid's life.
'I always enjoyed performing our first number of the evening, opening a song with my guitar and waiting with a secret smile of expectation going on inside me. Many places had noise going on in the background, clinking glasses, loud murmurs of conversation and orders being shouted at the bar. I would play a few bars of music and Ingrid would begin, within a few seconds all heads would be turning to the new focus of attention in the room. Our Ingrid was singing. Birmingham's hidden gem was shining and I always got a buzz from the change of atmosphere in the room as people quickly realised something unique and different was occurring.
She had an amazing voice and audience members and other musicians alike would always come up afterwards to give positive comments on her performances. Ever unpretentious and down to earth, Ingrid approached music like everything else in her life, with energy, focus and commitment, managing to turn songs into journeys of expression that drew the attention of anybody in earshot.
A person's creative expression naturally gives an insight into their persona, and when Ingrid was on stage she was totally engaging with her listener, her voice reflecting the passion, strength, and sensitivity of her elegant and graceful personality. The light of Birmingham's music scene is slightly less bright without Ingrid's presence.'
Adrian has continued to work on his recovery from Focal Dystonia and is hoping to return to live performance in the near future. He also has a collection of Norris-Brown songs that were recorded at home with Ingrid singing, and is hoping to eventually get these songs further developed and professionally produced to act as a lasting tribute to Ingrid's talent.
Lesley Turner – Violin
Matt Foundling – Piano
James Banner – Electric and Double Bass
Daniel O'Brien - Cello