Are You Ready Cat? - Angeline Morrison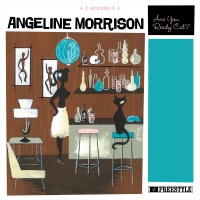 Already familiar to fans of Freestyle Records acts Frootful and Lack Of Afro after supplying her memorable voice to tracks by both, as well as working with masters of the mellow; The Ambassadors Of Sorrow, Angeline Morrison's ability to craft subtle, yet very catchy melodies infused with folk, bossa nova, R&B and jazz rhythms and textures ensures her music sounds fresh, engaging and highly original.

Now signed to Freestyle Records as a solo artist in her own right, the music that Angeline creates has an ethereal, other worldly quality, due in no small part to the wide ranging styles and influences that inform her highly individual, quirky, song writing and vocal abilities. Stir in elements of 60s torch song style, hypnotic, exotic and eclectic melodies, and you begin to understand the myriad of musical textures Angeline blends into a homogeneous soundscape.

Opening track, The Looking Dance, sets the mood, and places itself somewhere between the folky jazz of Ben Sidran and the jazzy folk of acts like Pentangle - a beautiful, memorable melody is augmented with brushed drums, flute and shimmering harp. In contrast, the title track, Are You Ready Cat?, is a toe tapping, 60s style pop-soul groover with swinging strings, sax and some indispensable glockenspiel!

The album, Are You Ready Cat?, spans the sounds of built up lush, exotic, hip bossa nova numbers that transport the listener to somewhere very south of the equator, akin to the sounds of Stan Getz/Astrud Gilberto recordings of the early 60s, as well as ethereal folk-jazz sounds. It also contains touching and introspective elements that drip heartache and pathos, which illustrates the many moods and textures Angeline has mastery of.

The album also features Slowtime - a collaboration with Angeline's long-time musical partner Nick Radford aka Frootful - which begins with stunning strings which swell and ebb away before Nick's guitar picks out the subtle rhythm as Angeline's voice caresses and strokes the wonderful touching melody.

We can only suggest you take this opportunity to indulge yourself in the music of one of the most original and talented female songwriters working today.