Mad Staring Eyes - Talking to the Operator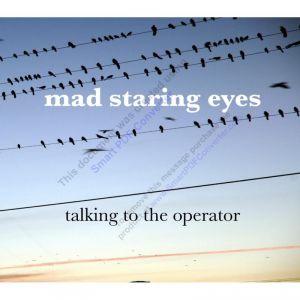 Mad Staring Eyes are a 6-piece band from North London. Their line up includes pedal steel and flute and revolves around a core that have played together for 20 years. In 2006 Mad Staring Eyes self-titled debut EP won the John Peel 'Best New Band' award and they played Glastonbury Festival that year.
They have since toured in the USA, UK, Canada, Russia and Germany and played international festivals such as South By South West (Austin, Texas), North By North East (Toronto) and CMJ Music Marathon (New York).
Their new album was recorded live onto tape using all vintage gear (including The Pogues' 1962 Ludwig drumkit) and draws on influences such as The Band, The Mamas and the Papas, Bruce Springsteen and Fairport Convention.
The band are set to release their third album, Talking To The Operator, on October 1st. The album, recorded live onto tape using all vintage gear (including The Pogues' 1962 Ludwig drumkit), displays a rich tapestry of folk and Americana styling drawn from a love of The Band, early Fairport, Van Morrison and Springsteen. Led by the rogue 'cockneyish' charm of lead singer Alex Simler, Mad Staring Eyes offer a distinctly different slant on the conventional roots repertoire coming across like a cockney Carter Family. There are times on the infectious opener, "Waiting For The Doctor," where you would swear you were in the presence of early Fairport whilst the brilliant 'Don't Lead Me On' echo's the lyrical genius of Pulp in all their glory. This is an album that grabs you by the throat from the off and thereby throwing you headfirst into a vibrant, earthy, wonderfully conceived folkster world. The exceptional musicianship and deft, thoughtful arrangements mark out Mad Staring Eyes as a band with the world at their feet.
For more information please visit their official homepage:
http://www.madstaringeyes.co.uk
-Blurb Music PR.
Folk Blues & Beyond rating