Birgit Kuit - I Feel A River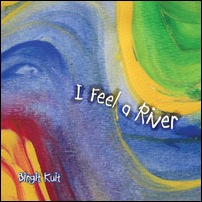 With her third release, Birgit's voice hooks a listener in a way that compels admiration and applause. Her soulful lyrics and haunting melodies have her poised on the edge of a breakout in the Canadian music scene.
Her music has drawn comparisons to Fleetwood Mac's more acoustic leanings, with traces of Shaun Colvin, Joni Mitchell and Judy Collins.
"Birgit's voice touches a deep vein of longing and beauty for the inexpressible which arrests and nourishes the heart of her listeners. Her singing brings healing balm to the hungry soul"
Chloe Goodchild, musical director, V-day 2001 Madison Square Gardens, New York City
"The songs on Birgit's CD offer a sweet balance of worldly wisdom, romantic flair and social insight…very ably delivered by one of the finest female singers I've heard in a while. Birgit's expressive vocals embrace the touch & technique of a wide range of fine artists…from Fleetwood Mac's more acoustic leanings, to traces of Shaun Colvin, Joni Mitchell, Judy Collins….Likewise, Birgit's inventive guitar work is also exceptionally-melodic, accurate and percussively-precise."
Barry Newman, editor for Cosmic Debris Magazine
"Birgit's music is pure and honest and thankfully free from cynicism in a world that needs more hope. She writes songs that make you feel glad to be alive"
Mae Moore, international recording artist
"This gal has a deadly voice and lyrics that will truly charm you"
Ron Hynes, East Coast Folk music legend
For more information goto the official
website