We Steal Flyers - Our World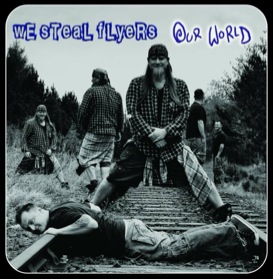 A stunning album from a Northumberland group called We Steal Flyers. This acoustic duo has created a euphoric and uplifting acoustic debut album entitled Our World.
Rich vocal harmonies and very laid back strumming creates a unique style and a very addictive sound. Hats of guys. Make sure you check out their new album today!
Info from their official biography:
Derek and Shaggy met up in 2008 when Stolen Tom played on the bill at one of CBSkies last gigs as a band.
Derek was soon to put out his Acoustic Magic idea of going out to buskers nights and searching for good and hopefully a great player or two to help them be heard touring across this little country.
Shaggy was one of the first people to join Acoustic Magic and Derek saw in Shaggy what he was looking for.... He had a heart and lived for music like himself.
A year on when Derek lost his guitar player he wrote and worked out a set alone to find a style of his own.... but knew to reach many more people he needed to team up with someone as he would always lack something and what he lacked is what people needed.
At a charity day Shaggy got up on stage with Derek and they played for 2 hours. They wrote a song and knew they were the parts missing for the future adventure they both felt was coming.
They both write music and lyrics, sing and play guitar..... They move fast and smile often as they understand the business enough to know the basics.
Booking up 250 shows for 2011 with an already impressive "100 gigs in 100 Days Tour" underway, tv slots, radio, constant single's and album release's they will not stop .Playing venues of any size, playing on radio shows, busking on the streets are where you can find them.
They play everywhere under the name WE STEAL FLYERS.
Official
website