The Toy Hearts - Whiskey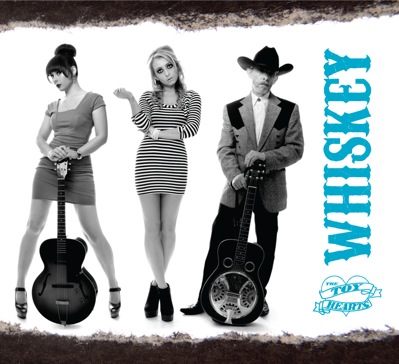 This Birmingham based sister fronted outfit have been not-so-quietly carving out their own niche in the Americana and Roots music scene for a while now, so if you haven't been to one of their shows before you are in for a real treat. And, although it may seem improbable that two young women from the Midlands would have the ability to produce authentic and innovative Country music, you really should leave those pre-conceptions at the door.
One thing about The Toy Hearts is clear: their love for the music they play and the conviction of their delivery far exceeds any simple mimicry of American music. They manage to tip their hats to their influences from Bluegrass, Country and Swing, while making their own mark, and having their own distinct style, which is quite different to that of those whom inspire them. From the heartbreak in Hannah's voice, to her sister's take-no-prisoners guitar playing, to their father Stewart's multi instrumental talents, this unlikely trio demonstrate what it means to really want to play this kind of music and truly love doing so.
Having toured extensively since making their first record in 2006, they have played gigs and festivals across the UK, Europe and USA, so they have paid their musical dues the old fashioned way by being on the road an awful lot! They have opened for the likes of Robert Plant, Imelda May, Kitty Daisy & Lewis, The Hot Club of Cowtown, Gene Watson & Ricky Skaggs. Their Nashville recorded 2010 release 'Femme Fatale' received several plays from Bob Harris and the band went into BBC Radio 2 studios to record a live session with him in 2011.
Now on their fourth offering from their own label Wood Ville Music, new album, 'Whiskey' is released on June 24th 2012, distributed by Proper. It was recorded in their home studio in Birmingham UK, but was edited and mixed by Grammy nominated engineer/producer Ben Surratt in his studio The Rec Room, Nashville TN. This is their first cd to be half original material half covers, and while previous recordings have been more acoustic and bluegrass orientated, this is an homage to some of the other genres that inspire the band, particularly Western Swing, Rockabilly, Jazz and Blues. As the album title suggests, there is a healthy dose of good ol' drinking songs Whiskey, Pass The Jack, Me and My Gin.
It is an album about vices, drinking in particular, and coping with working in a world where the drinks are always flowing. Lyrically it deals with the fall out from failed relationships, heartbreak, lonesomeness and issues of self control, but despite this, the feel of the album remains determinedly upbeat, there is definite joy and even humor in both the playing and songs. The Toy Hearts continue to develop their own signature style of songwriting; with catchy choruses, blood harmonies, hot guitar and steel picking.
Official Site:
http://www.thetoyhearts.com