Sapphire
Island Records ILPS 9779 (1984)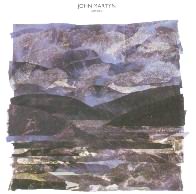 Album available as:-
(Island IMCD164)
(Body Swerve JMLP001 (independent), Eagle Records EAMCD 081 (combined with Snoo), Blueprint BP275CD, DOJO records (Castle Communications) DOJOCD 26)
Recorded in the Bahamas with the help of Robert Palmer, Sapphire continues in the vein of the early-'80s slicker John Martyn sound. By now the guitar has sunk so far into the mix to where it's become virtually nonexistent, and keyboards and drum machines have taken over. Not that omnipresent guitar is necessary for a good Martyn album, but a career that's built so much with guitar, when changed to less guitar, needs to have something else going for it. Martyn's unique voice and adept songwriting have proven to be enough since his guitar sank into the background, but unfortunately these attributes aren't enough to sustain this particular album. The only really memorable tracks are "Fisherman's Dream" and "Mad Dog Days." "Over the Rainbow" (yes, the song from Wizard of Oz) is a surprisingly good choice for Martyn, yet it works much better in his live shows than here in a studio version.
- Rob Caldwell (AMG)
Released in November 1984. John had rejoined Island in 1984 and Chris Blackwell sent him to Compass Point Studios in the Bahamas to record. The sessions were going badly as John had a number of disagreements with the producer until John asked Robert Palmer to help.
"Actually it almost didn't happen, the production team had all fallen out, no-one was taking responsibility for anything, too much rum was being consumed all over the place, so I got Robert Palmer in who brought in some other excellent musicians, and that was it...it was all down to Robert in the end."
The resulting album Sapphire, "was all down to Robert in the end." The playing was light, relaxed, subtle and dreamlike quality of the production was present on every track. John's vocals just managing to steer the album clear of becoming too smooth and soulless. There is little guitar on the album and what there is was apparently electronically treated so as to be indistinguishable from the synthesisers around it, the exception to this rule being the solo on Fisherman's Dream. Before Sapphire, Sundays Child had been the only other self produced album and this one contained just enough high points to convince critics that, whilst no new ground had been broken, it was still a contemporary album with above-average charms.
Fisherman's Dream was originally recorded with the Scottish National Choir singing on it! John said, "it sounded awful...as soon as they opened their mouths I went aargh...I've made a mistake, I don't want these people on my record."
Not a popular album with fans, but it contains some gems nonetheless such as Rope Soul'd, the title track itself, the ever popular Fisherman's Dream and Over The Rainbow which is the encore to many of John's gigs.

- John Hillarby (The John Martyn Website)
Track Listing:
1. Sapphire (Martyn) - 5:18
2. Over the Rainbow (Arlen/Harburg) - 3:25
3. You Know (Martyn) - 3:14
4. Watching Her Eyes (Martyn) - 3:55
5. Fisherman's Dream (Martyn) - 4:18
6. Acid Rain (Martyn/Thomson) - 4:13
7. Mad Dog Days (Martyn/Thomson) - 5:00
8. Climb the Walls (Martyn) - 4:17
9. Coming in on Time (Martyn) - 3:38
10. Rope Soul'd (Martyn/Reynolds/Thomson) - 4:46



John Martyn - Guitar, Vocals