Live At Leeds
Island ILPS9343 (1975)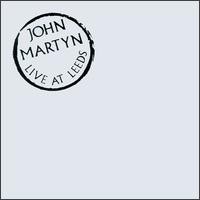 Album available as:-
(Hypertension HYCD200114)
Because Island Records didn't feel it was the right time for a live album, Martyn independently released this record from his home. The initial release was a limited edition of 10,000 (which Island did manufacture, though not distribute or promote) that was numbered and signed. Though the album shares its title with the famous Who live collection of the same name, the working title was "Ringside Seat" and photos of Martyn and bassist Danny Thompson in a boxing ring were even taken for a prospective cover, though never used. Recorded February 13, 1975 (the sleeve incorrectly states October), at Leeds University in the U.K., this is John Martyn at a peak in his career. In Thompson, he'd found a perfect foil for his increasingly jazzy textures and their bass and guitar interaction is a particular highlight. Having mastered the echoplex, which was capable of producing waves of echoed and distorted sound, Martyn was doing things with an acoustic guitar that no one had ever done (or has done since). "Outside In" (all 18:57 of it!) is a tour de force showcasing the otherwordly sounds he could coax from this device, and is worth the price of the album alone. The re-released version on Voiceprint/One World includes five bonus tracks ("My Baby Girl," "You Can Discover," "So Much in Love With You," "Clutches," "Mailman") from the show, including the ones Paul Kossoff of Free guested on.
- Rob Caldwell (AMG)
John toured extensively in 1975 with Danny Thompson, John Stevens on drums and Paul Kossoff on guitar. A full-blooded and uncompromising concert at Leeds University was recorded with a view to releasing a live album, but Island weren't keen so John produced, designed and sold "Live At Leeds" mail-order from his Hastings home. Kossoff had been out of the music scene for some time with self-inflicted health problems before John invited him to play. Apparently his playing was so erratic that it had to be cut from the recording.

The limited edition of 10,000 quickly sold out. Many of the albums were numbered and personally signed by John, making this a real collector's album. Even John himself has no copy, "I sold them all... I was the first of the record independents !". "It was great. Terribly hard work though...I would never do it again. The only way to do it would be to hire people to take care of everything; it was just too difficult for me and Bev. It didn't help matters either when there was a three week delay between the time EMI said they'd deliver the albums and the time they actually arrived."
The album confirmed his reputation as a witty and original stage performer with a wicked line in banter and repartee, and this, coupled with excellent album reviews, was bringing John Martyn the audience that was to stay with him for years to come.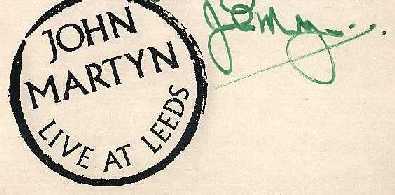 Acting as producer and distributor took it's toll on John and suffering from nervous exhaustion he didn't play for months after the tour taking a sabbatical for four months in Jamaica whee he was to meet Lee 'Scratch' Perry.
The recent reissue of Live At Leeds (One World Records, 1998) includes 5 bonus tracks with Paul Kossoff playing guitar - My Baby Girl, You Can Discover, So Much In Love With You, Clutches and Mailman.

- John Hillarby (The John Martyn Website)
Track Listing:
1. Outside In (Martyn) - 18:57
2. Solid Air (Martyn) - 7:13
3. Make No Mistake (Martyn) - 5:05
4. Bless the Weather (Martyn) - 4:45
5. The Man in the Station (Martyn) - 2:35
6. I'd Rather Be the Devil (James) - 8:40
7. My baby girl (Martyn) - 2:39 *
8. You can discover (Martyn) - 3:52 *
9. So much in love with you (Martyn) - 5:23 *
10. Clutches (Martyn) - 5:20 *
11. Mailman (Martyn) - 5:28 *


* Bonus Track on One World OW107CD


John Martyn - Guitar, Vocals